Aims to promote Slash Web3 Payments, a crypto asset payment system, in the global market.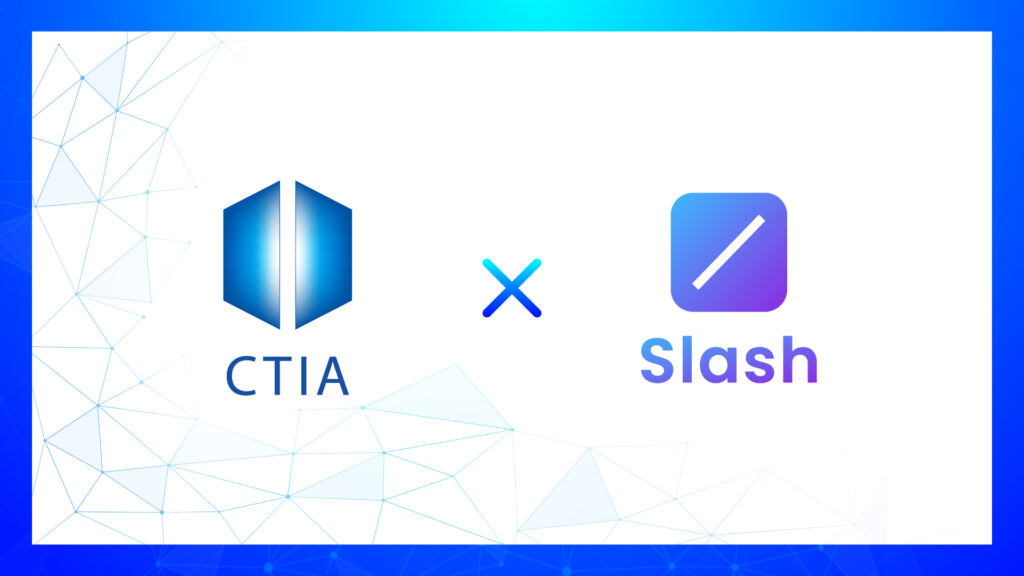 CTIA SG (CTIA SG, headquartered in Singapore), a group company of CTIA, has entered into a strategic partnership with Slash Fintech Limited (, "Slash", headquartered in the British Virgin Islands).
CTIA SG has long been involved with Slash in consulting and marketing in the crypto asset industry to expand the business of Slash Web3 Payments, a crypto asset payment service provided by Slash. Now, Slash has officially signed the agreement as a strategic partner to support Slash's further business development and the promotion of the "Slash Web3 Payments" service.
In the future, CTIA SG will support the introduction and promotion of Web 3.0 payment services for domestic and international e-commerce sites and brick-and-mortar store payments to expand the use of "Slash Web3 Payments". In addition, CTIA SG, which has implemented and consulted on blockchain solutions for a variety of companies, will encourage clients with whom CTIA SG has worked in the past to implement Slash Web3 Payments, thereby improving client service.
In addition, CTIA SG will provide comprehensive support for token issuance in Singapore and an acceleration program for new Web 3.0 businesses.
CTIA SG, the Singapore base of the CTIA Group, provides digital business services that use blockchain and other cutting-edge technologies to achieve digital transformation (DX) of businesses, and design business services that accelerate business through creativity in Singapore, an international financial center that attracts fintech-related businesses from around the world. In addition, CTIA SG will promote new business and innovate business through fintech by making full use of our connections with companies and institutions in various business areas in Singapore, which functions as an international hub as a relay trade center in Asia.
Slash Web3 Payments, a payment service using crypto assets, is now available. Slash Web3 Payments is an automated currency exchange solution for crypto assets. Merchants can incorporate the receipt wallet address into the smart contract with a single click, create a QR code (URL for customer payment), and use Japanese Yen/Stablecoin (JPYC) and US Dollar/Stablecoin (USDC/USDT/ DAI) or the currency of choice and receive it in the merchant's wallet in real time.
Comments from Mitsuru Tezuka, President of CTIA Holdings
「As a consultant, we have been supporting Slash since its business launch in raising funds and building the business, and we are pleased to officially become a strategic partner. I have always worked with blockchain as a practical application in mind, and I look forward to contributing my experience and knowledge to Slash. 」
Comments from CTIA SG CEO Toshinori Matsuo
「I am very pleased to announce the signing of this strategic partnership agreement with Slash. Since I have been involved in the blockchain industry, I have always dreamed of a world where people around the world can easily pay with tokens of their choice, and it is my dream to be able to support Slash's business expansion. I am sure that our team will do our best to create further synergies. 」
Comments from Shinsuke Sato, CEO, Slash Fintech Limited
「Slash is pleased to announce the formal conclusion of a strategic partnership with Singapore-based CTIA SG to build a strong relationship. CTIA has provided us with a wide range of support from the very beginning of the project. We will continue to make use of CTIA's knowledge and experience to achieve Slash's goal of "implementing various token payment experiences in society. "」
【CTIA SG Pte.Ltd. Company Overview】
Representative   :   Mr. Toshinori Matsuo (CEO)
Location:8 Keong Saik Road, Singapore 089116
Business Activities:
Digital business aiming for digital transformation (DX) of cutting-edge technology business such as blockchain
Design business that conducts creative work related to corporate design and promotion planning
Official Site:https://ctia-sg.com/ 
【Slash Fintech Limited 会社概要】
Representative:Mr. Shinsuke Sato (President & CEO)
Location:4th Floor, Water's Edge Building, Meridian Plaza, Road Town, Tortola, British Virgin Islands VG1110.
Founded:Nov. 23, 2021
Official Site :Slash Web3 Payments
https://slash.fi/
White Paper
https://slash-fi.gitbook.io/docs/whitepaper/slash-project-white-paper
Official Twitter:Slash Web3 Payments
https://twitter.com/SlashWeb3
【For inquiries about this press release】
For questions or requests from the media regarding this matter, please contact CTIA SG at the information below.
CTIA SG Pte.Ltd.
Representative:Mr. Toshinori Matsuo
メール:toshi@ctia.ltd