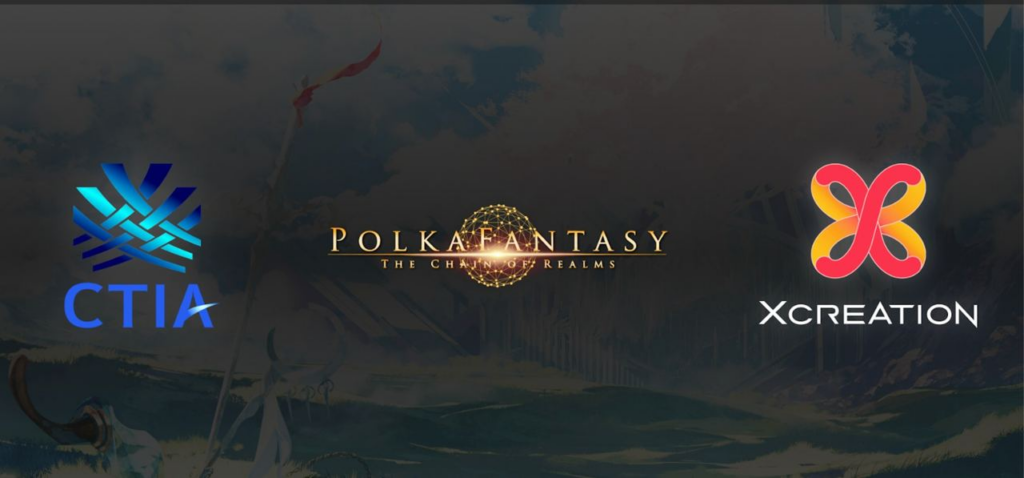 Focus on developing new NFT games and Metaverse business projects and ensuring smooth operation of the business
CTIA (Headquarters: Singapore, CEO: Mitsuru Tezuka, "CTIA") is pleased to announce that X Creation Corporation (Headquarters: Chiyoda-ku, Tokyo, CEO: Masahiro Kawakami, "X Creation") and PolkaFantasy (Fantasy Tech Inc., Head office: Leeds, CEO/Founder: Alex Hui, "Fantasy Tech") have entered into a three-way partnership on February 15, 2022 for the production of NFT games and metaverse projects, as well as related consulting business.
X Creation, with a proven track record in NFT development in the entertainment domain; Fantasy Tech, which operates the NFT marketplace and blockchain game PolkaFantasy; and CTIA, which has consulted for numerous clients in the blockchain domain and helped shape the token economy will form a new ecosystem in the field of NFT games and metaverse. Thus, opportunities to attract users and players will be created, and which will support advertising and promotional activities for new games. The goal is to create an environment in which even new businesses can proceed with their projects smoothly.
Background, history, and objectives
In recent years, the NFT and metaverse fields have been experiencing a frenzy of activity, and in 2022, the market is expected to continue to grow with a wide variety of approaches worldwide.
In order to enhance future expanded services for newcomers to NFT games (GameFi, Play-to-Earn) and the metaverse, and to ensure the smooth operation of these businesses, this partnership with three companies familiar with all aspects of the field has been formed.
The three companies look to create an environment in which they can provide one-stop comprehensive consulting services to companies and IP holders that are looking to enter the NFT game business. By leveraging the knowledge and connections that each partner has cultivated over a long period of time in the industry, clients are able to issue and sell NFTs in advance of game development and form their own platforms.
CTIA will be responsible for the operation, management and marketing of the project in order to provide comprehensive support to companies and IP holders seeking to enter the NFT game space.
■What is an NFT?
It stands for "Non-Fungible Token," which uses blockchain technology to turn digital data into "non-falsifiable certificates of authenticity and ownership." By converting digital data to NFT, it is possible to record the creator, owner, and date of creation on the blockchain, which makes it possible to attach a unique asset value to digital data that was previously difficult to prove. Since 2020, the NFT market has been rapidly gaining momentum worldwide, and is attracting a great deal of attention as a new trading market for digital content.
■What is a Blockchain game?
The game is structured based on blockchain technology. By using NFT technology for digital assets such as items and characters acquired in the game, it is possible to use them in different target games. Or they can be freely bought and sold in the target marketplace to increase assets which can then be used in the real world through Play-to-Earn. Such games are now attracting global attention and the future expansion of the market in Japan is gaining interest.
X-Creation Inc. is a technology company responsible for technology development and planning consulting using the latest technology including blockchain.
The company provides product development, technology consulting, and planning services using blockchain and artificial intelligence (AI), and provides user content such as Yoshimoto Digital Koreka and NMB48 Digital Trading Cards.
As a pioneer in applying the latest technology to commercial use, they encourage the creation of digital content and platforms that are close to creators and users.
https://xcreation.co.jp/
PolkaFantasy is an NFT project that pursues two-dimensional culture such as Japanese anime and manga. The beta version was released globally in October 2021 and has over 1000 active users (as of December 2021).
They have introduced GameFi (Game x DeFi) and Play-to-Earn mechanisms to build the NFT marketplace, and are working to build a platform that connects games and real-world finance through a unique ecosystem.
https://polkafantasy.com
CTIA is a venture company that promotes DX and engages in consulting and system development based on leading-edge technologies such as DLT (Distributed Ledger Technology), AI, and IOT to solve business problems and international social issues. We will provide the most suitable DX solution for system designs of workflow for clients through sampling and analyzing management issues and social problems with our experienced professional team.
【For inquiries about this press release】
If you have any questions or requests from the media regarding this matter, please contact us at the address below.
CTIA Co., Ltd.
Representatives: Orita、Ogasahara
TEL: 06-6563-7885 
Email: support@ctia.ltd
Website: https://ctia.ltd